Opening this Friday: La Colonia
La Colonia: Spanish Immigrants in New York, 1898-1945, a photography exhibit curated by ALBA Board member James D. Fernández, and co-sponsored by ALBA, is opening this Friday, September 17, at 6:15pm at NYU's King Juan Carlos I of Spain Center (53 Washington Square South).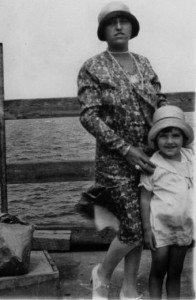 In the early decades of the twentieth century, New York experienced a substantial influx of working-class immigrants from Spain. Compared to many other national groups from Europe, the Spanish colony in New York was relatively small. But the outbreak of the Spanish Civil War in 1936 brought heightened visibility to New York's Spaniards, as the city mobilized in response to the war in Spain. Using snapshots from the family albums of these immigrants and their descendents, this exhibition will chronicle the history of this forgotten episode of Spanish and US history. This exhibit at KJCC is part of Nueva York (1613-1945), a groundbreaking interpretive exhibition that explores for the very first time the significant historic ties between New York and the Spanish-speaking world, organized by the New-York Historical Society and El Museo del Barrio from September 17, 2010 to January 9, 2011. See also coverage in El País.