London SCW memorial to be moved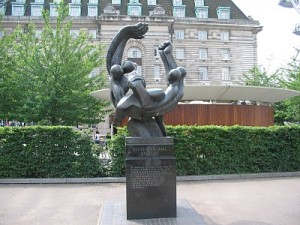 As the Jubilee Gardens, home of one of the many British memorials to the International brigades, is getting ready for a major renovation, the Dutch firm West8, which is in charge of the project, is pondering where to relocate the IB monument, LondonSE1 reports.
At last Wednesday's meeting Maarten Buijs of West8 said that the aim is to get the park finished in time for the Queen to perform an official reopening ceremony during her Diamond Jubilee celebrations in 2012. The park will also play an important role in the London 2012 Olympic Games … West8 is currently investigating a new location for the Spanish Civil War International Brigades memorial within the gardens.
More here.