Garzón receives award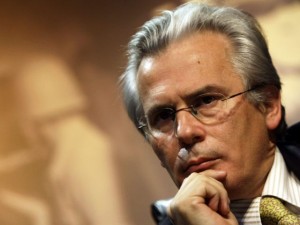 Judge Baltasar Garzón Real, who has been suspended from his post at Spain's National Criminal Court for his investigations of possible crimes against humanity committed under the Franco regime, has been honored with the Hrant Dink Award, named after the prominent Armenian journalist who was assassinated by a Turkish nationalist in January 2007. The Turkish Weekly reports:
Every year, the award is presented to two people from inside and outside Turkey, who work for a world free of discrimination, racism, and violence, take personal risks for their ideals, use the language of peace, and by doing so, inspire and encourage others.  "With this award, the Foundation aims to remind to all those who struggle for these ideals that their voices are heard, their work is visible and that they are not alone, and also to encourage everyone to fight for their ideals," a foundation statement said days before the awards were granted.  The 2010 Jury of the International Hrant Dink Award consisted of Adalet Agaoglu (author), Judith Butler (author, academician), Hasan Cemal (journalist), Daniel Cohn-Bendit (member of the European Parliament), Rakel Dink (the President of the Board of Directors of the Hrant Dink Foundation), Alper Gormus (journalist and the winner of the International Hrant Dink Award 2009), Amira Hass (journalist, the winner of the International Hrant Dink Award 2009), Irene Khan (former Secretary General of Amnesty International) and Boris Navasardian (the President of Yerevan Press Club).
More here.