ALBA & Puffin Announce Human Rights Award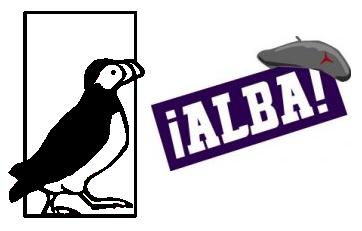 The Abraham Lincoln Brigade Archives and the Puffin Foundation are thrilled to announce a major new initiative: the Puffin/ALBA Human Rights Project (HRP), established to honor the international brigades and all those who fought against fascism during the Spanish Civil War by connecting that legacy with international activist causes today, in particular the defense of human rights.
The project consists of two primary components: an annual Puffin/ALBA Award for Human Rights Activism in the amount of $100,000, and an informal international network of allied organizations working in the area of human rights, historical memory, and the legacy of the International Brigades.
In the years after the Spanish Civil War, many of the vets committed their lives to assisting political prisoners around the world—particularly in Spain and Latin America—aiding political refugees, advocating for social justice, actively defending imperiled democratic institutions, or mobilizing the arts for worthy activist causes. Recent developments in Spain and Latin America, meanwhile, have focused world attention on the human rights issues associated with the legacies of dictatorships: the need for working through the violent past, recovering historical memory and honoring the rights of victims of repression.
The annual Puffin/ALBA Human Rights Activism Award, which is intended to continue for a minimum of 10 years, aims to support this work and to keep it in the public eye. The Human Rights Network will serve to provide mutual support, collaboration, and exchange of information among its member organizations; to collaborate on events and programs; and to help contribute appropriate nominations for the Award. The HRP website will be launched later this fall.
Founded in 1983, the Puffin Foundation Ltd is a non-profit foundation that receives thousands of requests from all parts of the United States each year from aspiring artists, photographers, dancers, musicians and playwrights seeking financial support for the creation of new work. Puffin's support helps confirm that cultural works that may often be excluded from mainstream opportunities due to their creators' race, gender, or social philosophy will have an opportunity to be viewed. Puffin is also a long-standing supporter of ALBA's educational mission.