"Antifascistas" exhibit reviewed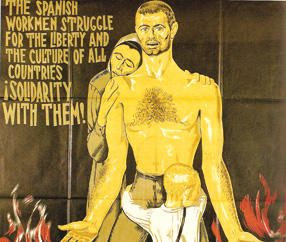 The Morning Star reviews the International Brigades exhibit currently on display at London's Star Gallery:
This outstanding exhibition, largely drawn from the International Brigade Memorial Trust archive at the Marx Memorial Library, tells in words and pictures the inspirational story of the 2,500 British and Irish volunteers who joined the fight to defend democracy in Spain against internal and international fascism from 1936 to 1939. […] The role of artists in supporting the republican cause, a continuing point of reference in contemporary progressive culture, is pervasive and due prominence is given to the contribution of poets like Christopher Caudwell and musicians Benjamin Britten and Randall Swingler.
More here.