Spanish refugees in newly digitized Holocaust archive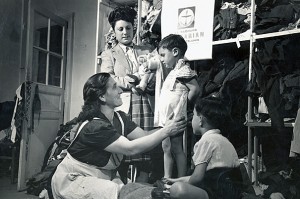 From the Harvard Gazette:
[A] new digital archive at the Andover-Harvard Theological Library at Harvard Divinity School (HDS)  […] evokes the horror of the Holocaust and the courage and hope of a small group of organizations that united to provide succor to its few survivors. "This collection tells stories that have never been told," said Fran O'Donnell, the library's curator of manuscripts and archives, who is managing the project. "One of the big stories it tells is of the many small organizations that worked together to help refugees from the Second World War." The newly digitized records include the contents of 260 boxes of documents and photographs from the library's official archive of the Unitarian Universalist Service Committee (UUSC), a relief organization that distributed food, established orphanages and aid centers, and helped to relocate hundreds of European refugees displaced by the war. […]
The project began when the U.S. Holocaust Memorial Museum in Washington, D.C., contacted the Divinity School's library in 2006, seeking access to its records of the Unitarian and Universalist service committees.  […] In addition to assisting World War II refugees, the Service Committee's office in southern France helped many refugees from the Spanish Civil War in the late 1930s. The Spanish government has agreed to pay reparations to those who can prove they were victims of the conflict. Using the records, O'Donnell was able to help a man from Argentina prove that he was a child refugee from Spain who was relocated to a home established by the USC in France.
"If the records can touch some people, and give some people some closure about what happened to their family members and loved ones, I think that is a great service we can offer," said O'Donnell, adding that the electronic records also capture the sense of collaboration among the many groups that were committed to helping those whose lives were turned upside down by the war.
"This archive shows that there were so many small organizations doing so much good," she said, "in a very quiet kind of a way."
More here.