NYC Film Series on Spanish Civil War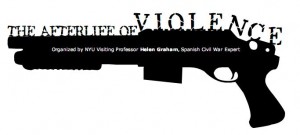 Helen Graham, visiting professor in the department of history at New York University and King Juan Carlos I of Spain chair of Spanish American Culture and Civilization, has been organizing a series of film screenings, lectures, and round tables on the Spanish Civil War and "The Afterlife of Violence."  The events take place at NYU's King Juan Carlos I of Spain Center, 53 Washington Square South, and are free and open to the public. For more information, click here, call 212.998.3650 or visit www.nyu.edu/kjc.
Mon., March 22, 7 p.m. Furtivos (José Luis Borau, 1975, 82 mins.) In Spanish.
Mon., March 29, 7 p.m. Queridísmos verdugos (Basilio Martín Patino, 1977, 100 mins.) In Spanish.
Mon., April 5, 7 p.m. Deprisa, deprisa (Carlos Saura, 1981, 99 mins) In Spanish.
Mon., April 12, 7 p.m. Salvador (Manuel Huerga, 2006, 134 mins) In Spanish with English subtitles.
Wed., April 14, 7 p.m. To My Son in Spain: Finnish Canadians in the Spanish Civil War (Saku Pinta, 40 min.) followed by a round table discussion on the Spanish guerrilla with filmmaker Saku Pinta and historian Jorge Marco (additional participants to be confirmed). Co-sponsored by the Abraham Lincoln Brigade Archives.