Max Aub's Civil War in English
Max Aub, Field of Honour, translated by Gerald Martin, with an introduction by Ronald Fraser, London, Verso, 2009. 253 + xviii pp. (buy book from Powells.com)
For all its internationalist appeal, the Spanish Civil War is almost always read through a national lens. This is true in particular for its literary versions. The French know the war primarily as it was told by André Malraux in L'Espoir (1937). For the English, George Orwell's Homage to Catalonia (1938) is t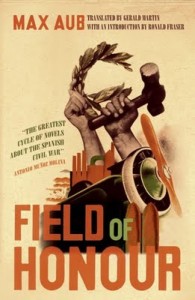 he foundational text. The American public still largely relies on Hemingway's For Whom the Bell Tolls (1940) — which was lambasted by the Veterans of the Lincoln Brigade as soon as it came out and which, strangely, both John McCain and Barack Obama marked as one of their most inspirational readings. The dogged persistence of canonical domestic texts like these is remarkable—and to be honest, a bit aggravating—not only because they were written so long ago, during or immediately after the war, but because they provide at best a very partial, if not an outright skewed, version of what happened in Spain. More importantly, their steadfast predominance has tended to eclipse more interesting or accurate literary accounts, especially those written originally in other languages.
When it comes to historical fiction about the Spanish Civil War, the largest and richest tradition is, for logical reasons, the Spaniards' own. A comprehensive catalog of Spanish Civil War novels written in Castilian, Catalan, Galician, and Basque would literally run into thousands of titles. (Many of these were written in exile and with the express purpose of countering Franco's version of the war; but the dictator's death did not stop the literary Civil-War wellspring, to the contrary.) With the exception of Arturo Barea and Ramón J. Sender, however, very few of these texts and authors have been made available in translation. Perhaps the most glaring absence in this respect has been the monumental Civil War work of Max Aub, which ALBA board member Antonio Muñoz Molina has ranked at the very top of the genre. Aub was a novelist and playwright of remarkable originality who spent his live chronicling the conflict that had torn his country apart and catapulted him into exile.
Aub had become a Socialist in the late 1920s, was actively involved in cultural and political work for the Republic, and continued to serve the government once the war had broken out. As the cultural attaché for the Spanish embassy in Paris and co-organizer of the Spanish Pavilion at the 1937 World Fair, it was Aub who commissioned Picasso to paint the mural that would become Guernica. Following the Republic's defeat, he spent three years in French concentration camps before managing to escape to Mexico, where he died thirty years later. The centerpiece of his extensive production is El Laberinto Mágico (The Magical Labyrinth)—five novels, a film script and some forty short stories that weave a sprawling epic tapestry of the war in which hundreds of characters, both historical and fictional, try desperately to make sense of their violent and chaotic times. Almost all of Aub's books were banned from Franco's Spain, while in Mexico his readership was limited. None of his Civil War work found its way into English.
Yet there is hope: almost forty years after Aub's death, Verso has published Field of Honour, the English translation of Campo cerrado, the Labyrinth's first novel, published in 1943. Field of Honour is a self-contained coming-of-age narrative that covers the final moments of the Primo de Rivera dictatorship and the five years of the Second Republic, which was proclaimed in April 1931. The book ends with thirty breathless pages covering the heady and chaotic first day of the war in Barcelona. The main character of the book, Rafael López Serrador, is an anti-hero of sorts, a pícaro or scoundrel who relies on his wit to survive: a poor and ignorant kid from a small town on the border between Catalonia and Aragon who decides to try and make something of his life. Via the provincial capital of Castellón he winds up as a metal worker in Barcelona, where he gets mixed up in politics and commits a murder (some echoes of Dostoiewski here). Initially his political position is determined by the people he hangs out with: because his roommate is an anarchist Rafael joins the syndicate, too. Later on he becomes enchanted with fascism. Once the war breaks out, however, Rafael is shocked into his senses and suddenly sees things for what they are: What matters is not he, as an individual, but the fraternity that binds the people together.
Aub wrote this novel in 1939, during the first precarious months of exile, holed up in a Paris attic room, separated from his wife and daughters. He would soon be arrested on false charges from an anti-Semitic and anti-Communist snitch. The text retains some of the urgency and claustrophobia of the moment. Ironically, Paris was Aub's home town: he was born there in 1903 from Jewish parents of German ancestry—but the outbreak of World War I had fanned the flames of xenophobia, forcing his family to move to Valencia, where Aub, aged eleven, learned Spanish in addition to his native French and German. In the 1920s, when he began publishing, he did so as a Spanish writer. The Paris of 1939, on the eve of the Nazi occupation, certainly did not feel like home: it was again drenched in an irrational fear of the other. Foreigners, immigrants, Jews, radicals, and thousands of Spanish Republican refugees had been rounded up and interned in camps well before the Germans took over. Soon after finishing the manuscript of Campo cerrado, the camp became Aub's fate too.
Although Aub's literary youth was spent under the influence of the avant-garde, giddy with self-referential play and outrageous metaphor, in the 1930s he made the conscious decision to put his work at the service of a political cause. For him, this meant a commitment to realism: chronicling his times as faithfully as possible. Still, this first novel shows clear traces of Aub's modernist schooling alongside inspiration from Quevedo, Goya, and Galdós.
This means, among other things, that the novel is not precisely an easy read. "The book has been a challenge for the translator," Gerald Martin writes in his prefatory note, "and will be a challenge to the reader; but the rewards are great." He is right on both counts. Aub's style alternates between the elliptical and the florid; there is plenty of folksy dialogue, mostly marked by the characters' violent disagreements on matters of politics or philosophy; the atmosphere is thick with tension and confusion. Martin meets the text's many challenges with skill and grace. The dialogue comes through with the same force as in the original. Here's a short interchange between Rafael and his friend González Cantos, a buddy of Durruti's and active in the Anarchist CNT:
—¡A mí no me importa lo que soy, sino lo que quiero ser! Y quiero el poder para el pueblo.
—Y para ti ¿qué es el pueblo?
—¿Quién coño ha de ser? ¡Vaya salida de pipolo! ¡La C.N.T, hombre, la C.N.T.!
Luego solían enzarzarse en cuentas, números y disconformidades con los sindicatos provinciales.
—Ya veremos lo que dice el comité.
Con eso resolvían todas las cuestiones.
"Well, I don't care what I am, only what I want to be! And I want power for the people."
"And who are the people, according to you?"
"Who the fuck do you think? What kind of damn-fool question is that? The CNT, man, the CNT!"
Then they would get bogged down in endless facts, statistics and grievances against the provincial unions.
"Let's wait and see what the committee says."
That's how they settled every question.
The novel is well edited, with a brief preface by the historian Ronald Fraser (author of Blood of Spain), an informative translator's note, a chronology, and lists of historical characters and organizations. What both Fraser and Martin fail to mention is that this book's publication is actually something of a miracle. In fact Martin translated it more than a decade ago, and Verso announced its publication for 1988, only to call it off at the last minute. Their decision to send it into print now was undoubtedly driven by the success of Martin's monumental biography of Gabriel García Márquez, which came out last year with Bloomsbury and Knopf. Aub, who was frustrated by his repeated but failed attempts to have his work translated, would have chuckled at the idea that he owed the Laberinto's English debut to his old friend Gabo, whom he knew as a penniless émigré in Mexico City, before the success of A Hundred Years of Solitude.
Sebastiaan Faber teaches Spanish literature at Oberlin College.