Joe Zameret (Cleveland, 1912 – Gandesa, 1938)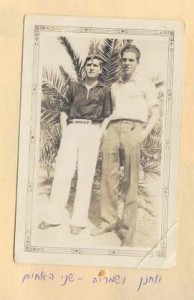 An online memorial by Yair Zameret:
In 1942, my father found that a few years earlier his brother had been killed as a volunteer in the Spanish Civil War. No more information was known. Even about other areas of Joe's life, not much was known. In the biography of my father, published after his death, only a few details appeared about Joe. […]
For years I felt, even with what little I knew, that Joe was a hero who deserved to be remembered. So I started to look for more information, and began by posting a question on a Spanish Civil War internet site. It yielded an answer: His name appeared in the list of volunteers of the Abraham Lincoln Brigade.
This was an exciting beginning to the trail. I kept looking, and got more pieces to the puzzle. A photograph of the brothers' meeting in LA in 1932; A photo of Joe leading a demonstration of unemployed workers; a photo from a Leftist archive in New York, in which he holds a Longshoreman hook.  […]
Joe was born in 1912, in Cleveland, Ohio, to Batia and Meir Zameret (Gelfand), Jewish immigrants from Russia that were just recently married (a 'Shiduch' marriage, with no prior introduction). Shmaria, the elder brother, was born two years before, and the young sister, Rose, was born five years after Joe.
More here.